Australian Guitarist Tommy Emmanuel, CGP, Returns To Richmond
Mar

02

, 2020
In Concert at Dominion Energy Center, Thursday, September 10, 2020 at 7:30PM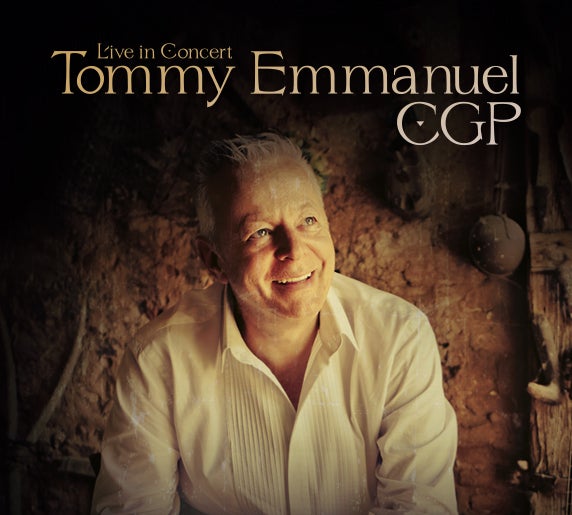 Richmond, VA (March 2, 2020) – NS2 presents two-time Grammy® nominee Tommy Emmanuel, CGP, in concert at the Dominion Energy Center on September 10, 2020 with special guest The Gibson Brothers. Tommy returns to Richmond following three successful engagements in the last decade at Dominion Energy Center. At 44, he became one of five people ever named a Certified Guitar Player by his idol, music icon Chet Atkins. Today, he plays hundreds of sold-out shows every year from Nashville to Sydney to London.
Tickets for Tommy's latest Richmond concert go on sale Friday, March 6 at 10AM and can be purchased on line at DominionEnergyCenter.com, by phone at 800-513-ETIX (3849) or in person at the Dominion Energy Center and Altria Theater box offices. Prices range from $29.50 - $55.00. Additional fees may apply.
Tommy Emmanuel's fans, whether musicians or civilians, invariably speak of not one but two qualities that define his greatness. The first, predictably, is his extraordinary guitar playing. He is considered by most experts to be among the greatest guitarists in the world. His talent is simply miraculous, as it would take three musicians, or more, to do what he does solo. Who else, for example, when playing "Day Tripper," can lay down the rhythm part, dig into the riff and sing the melody all at once on just one acoustic guitar?
Tommy brings an element of joy to his music that is powerful and infectiously appealing. "The joy," he says, "is there always because I'm chasing it through music. Seeing the surprise in peoples' eyes is worth living and working for... I can't help but play to the people with all my heart, which is overflowing with joy of being in that moment that I've worked all my life for. And here it is!"
Although his expression is instrumental, he comes to the guitar much more like a vocalist, positively singing melodies through the strings. He inhabits the tunes he performs, delivering every nuance and turn of phrase. His own songs are also illuminated always with lyrical melodies that go right to the heart, such as his beautiful ode to his daughter, "Angelina," or his great story without words, "Lewis & Clark." That they resonate so deeply without words makes sense, as words only go so far. But music, coming from a genuine and joyful source, can go so much farther. Now with The Best of Tommysongs, he brings us a complete collection of his own songs, all rich with ripe melodicism and rendered with joy in real-time.
The Gibson Brothers—siblings Eric and Leigh Gibson—have already made over a dozen albums, but none quite like the new Dan Auerbach–produced Mockingbird. Their newest venture is an effortless blend of classic '70s-infused rock and timeless country, a modern twist on their traditional sound, and harmonies that will keep you wishing for more. The celebrated duo was named back-to-back Entertainers of the Year by the International Bluegrass Music Association in 2012 and 2013. As players and vocalists, they are superb, harmonizing as only siblings can; as songwriters they stand without peer, having long been a band awarded for their songs and songwriting.