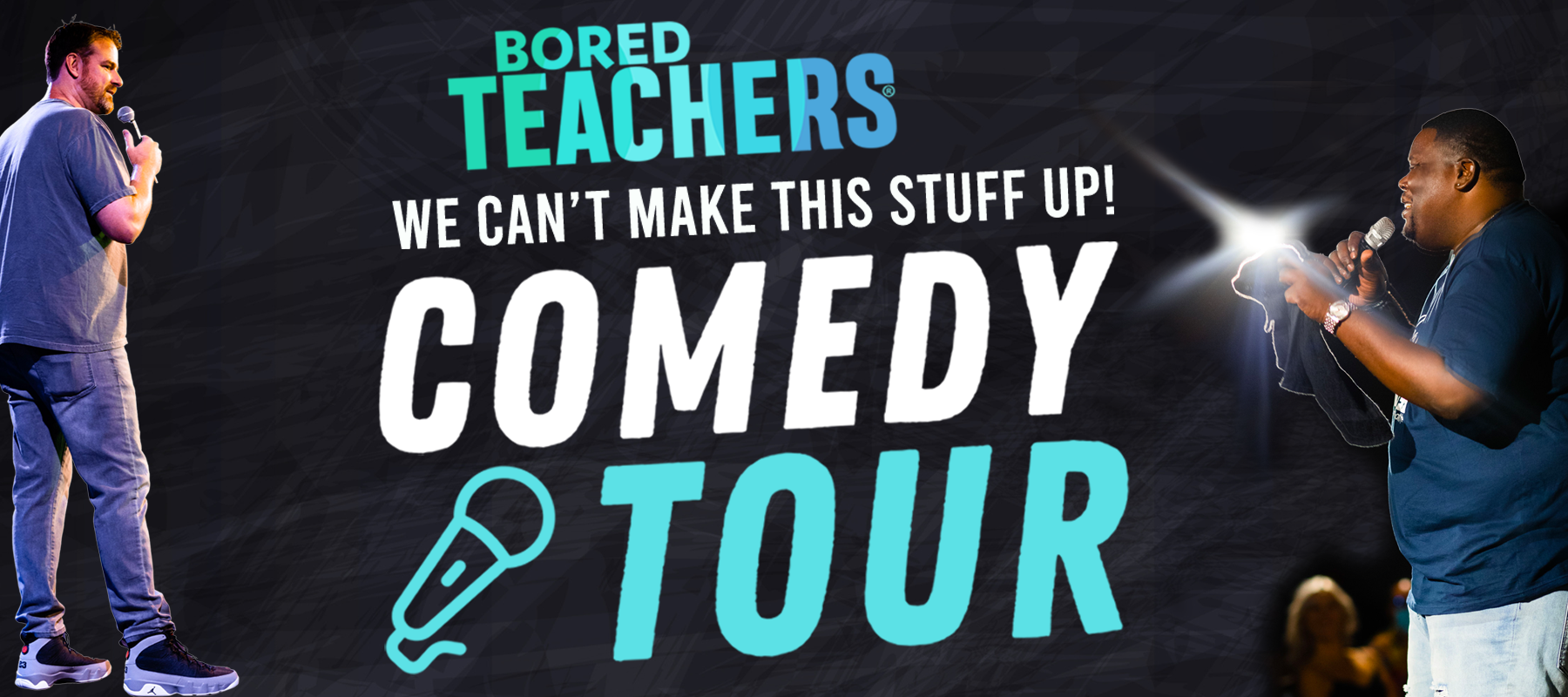 BORED TEACHERS COMEDY TOUR COMES TO RICHMOND
Nov

15

, 2022
FOR IMMEDIATE RELEASE
BORED TEACHERS COMEDY TOUR COMES TO RICHMOND
TICKETS ON SALE FRIDAY, NOVEMBER 18, AT 10AM LOCAL
(RICHMOND, VA) Bored Teachers, the biggest entertainment platform for teachers in the world, brings their comedy tour to Dominion Energy Center on April 4, 2023. Tickets go on sale to the general public Friday, November 18 at 10:00AM and start at $33.00, plus additional taxes and fees. Tickets can be purchased at dominionenergycenter.com.
Bored Teachers presents the funniest teacher-comedians in the world all on one stage in their new Comedy Tour. Their hilarious skits have amassed hundreds of millions of views on the internet, and they're all joining comic forces on the stage for a night of laughter you do not want to miss. Put that red pen down, pause that Netflix series you've been binging, throw on your comfiest teacher tee, call your teacher besties, and come burn off some of that stress this school year has been dumping on you!
Tickets will be available online at dominionenergycenter.com, by phone at (800) 514-3849 via Etix, or in-person at the Altria Theater Box Office, located at 6 N. Laurel Street, open Monday-Friday, 10AM-2PM local.
As a courtesy reminder, Dominion Energy Center urges ticket buyers to buy direct from the Dominion Energy Center website or from the sources listed above. All other ticketing sources are through unauthorized sellers. More information on buying direct can be found at dominionenergycenter.com/tickets-events/etix.
For more information, visit dominionenergycenter.com.

###
About ASM Richmond
ASM Richmond is the Richmond, Virginia division of ASM Global, the world's leading provider of innovative venue services and live experiences. The company manages three local venues including, Altria Theater and Dominion Energy Center on behalf of the Richmond Performing Arts Commission (RPAC), and Bon Secours Training Center on behalf of the Richmond Economic Development Authority. Previously known as SMG Richmond, the company became ASM Richmond in 2019 as a result of the merger between its parent company, SMG Worldwide, and AEG Facilities. ASM Richmond oversees all facets of venue management including, administration and finance, sales and marketing, event production and promotion, and facilities maintenance.
About ASM Global
ASM Global is the world's leading producer of entertainment experiences. It is the global leader in venue and event strategy and management—delivering locally tailored solutions and cutting-edge technologies to achieve maximum results for venue owners. The company's elite venue network spans five continents, with a portfolio of more than 325 of the world's most prestigious arenas, stadiums, convention, and exhibition centers, and performing arts venues Follow us on Facebook, Instagram, LinkedIn and Twitter. asmglobal.com