Get Your Tickets Now and Celebrate the 50th Anniversary of the Release of the Sgt. Pepper's Lonely Hearts Club Band Album with Rain: A Tribute to the Beatles as they Bring the Album to Life in its Entirety along with all of your Other Beatles Favorites!
Jan

11

, 2018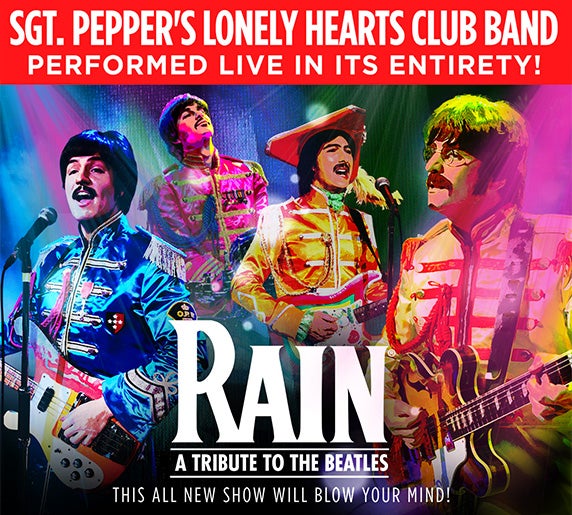 Join Broadway In Richmond's presentation of RAIN: A Tribute to the Beatles as they Celebrate the 50th Anniversary of the release of The Sgt. Pepper's Lonely Hearts Club Band album! The Celebration takes place Monday, February 15, 2018 at 7:30 pm for ONE PERFORMANCE ONLY at Carpenter Theatre at Dominion Energy Center!
As "the next best thing to seeing The Beatles!" (Associated Press), RAIN performs the full range of The Beatles' discography live onstage, including the most complex and challenging songs that The Beatles themselves recorded in the studio but never performed for an audience. In addition to the updated sets that include brand new LED, High-Definition screens and multimedia content, RAIN will bring the Sgt. Pepper's Lonely Hearts Club Band album to life in its entirety with the launch of the 2018 Tour.
Together longer than The Beatles, RAIN has mastered every song, gesture and nuance of the legendary foursome, delivering a totally live, note-for-note performance that's as infectious as it is transporting. Let RAIN take you back with all of the songs from Sgt. Pepper's Lonely Hearts Club Band along with all of your other Beatles favorites such as "I Want to Hold Your Hand," "Hard Day's Night," "Let It Be," "Come Together," "Hey Jude" and more! This adoring tribute will take you back to a time when all you needed was love, and a little help from your friends!
Audiences are RAVING about RAIN: A Tribute to the Beatles!
"Who said Sgt. Peppers couldn't be done live? Rain made it happen! I've seen a few Beatles tribute band, Rain is THE one to see!"
"Doing all of Sgt. Pepper in a 50-year tribute to the best band ever, The Beatles, is an incredible undertaking. The Beatles themselves never undertook doing these songs live. You nailed it!"
"At the show last night, INCREDIBLE. The show was flawless. Enjoyed every minute."
"These guys nail it, the best tribute band out there, I've seen pretty much everyone, and these guys are spot on!"
"Had to remind myself this was a tribute band. The sound, the look, it doesn't take much to let yourself go and imagine you are back in time watching the Beatles. GREAT SHOW!"
"Yes, Yes, Yes! I have seen this show about 10 times and it never disappoints!"
"There are few tribute bands that can capture the experience and sound of the original, definitely 5 star!"
"I felt like I was at an actual concert back in the 60's. Will never forget our experience seeing the show. Thanks for the memories."
"Beautiful tribute. Not a dry eye in the house."
"If you're going to be a Beatles tribute band, you better be good. @RainTribute is better than good! Phenomenal show!
Like The Beatles, the onstage members of RAIN are not only supreme musicians, but electrifying performers in their own right!
Tickets are on sale now and start at $48.00 (plus applicable fees) and can be purchased online www.BroadwayInRichmond.com, by phone 1(800) 514-3849 (ETIX) and at the Dominion Energy Center and Altria Theater box offices. For additional venue information, visit www.DominionEnergyCenter.com.
JOIN the conversation with RAIN on Facebook https://www.facebook.com/RainTribute,
follow RAIN on Twitter @raintribute, Instagram: @RainTribute and YouTube: https://www.youtube.com/RainTribute