JOHNNYSWIM, Drew Holcomb and The Neighbors & Penny & Sparrow Team Up for a Handful of Summer Tour Dates Supporting New Collaborative EP Goodbye Road, Due May 4th!
Apr

23

, 2018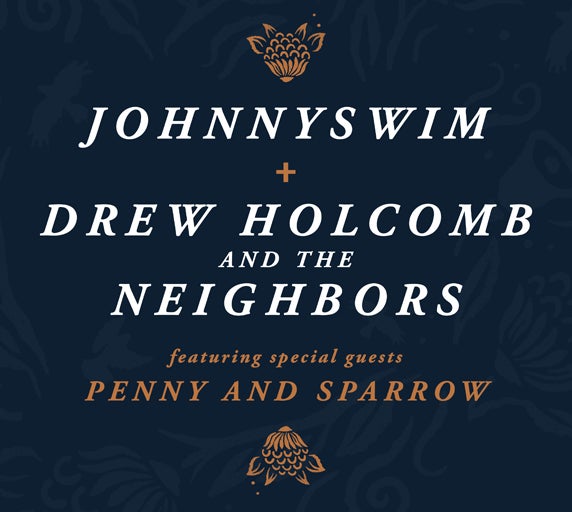 NEW YORK, NY (April 23, 2018) – JOHNNYSWIM, Drew Holcomb & the Neighbors and Penny & Sparrow are pleased to announce The Goodbye Road Tour presented by SiriusXM Coffee House, a limited run of live dates supporting their new collaborative EP, Goodbye Road, due out May 4th! Kicking off on June 28th at Little Rock, AR's Robinson Center, the three artists will bring an evening of music through much of the southeast before wrapping in Orlando, FL on July 12th. Full dates are below and presales begin tomorrow, April 24th with general public on-sale begins this Friday, April 27th. For tickets & more information, please visit www.goodbyeroad.com.
Earlier this month, JOHNNYSWIM and Drew Holcomb & The Neighbors released "Ring the Bells," the first single off of Goodbye Road. The single has streamed more than 425,000 times to date and upon release, hit #2 on iTunes' Singer/Songwriters chart and entered the US Viral Chart at #26 on Spotify after it was featured on New Music Friday. It was also selected by Rolling Stone as one of the "10 Best Country and Americana Songs of the Week" – who wrote, "…this acoustic anthem mixes pop, gospel and folk into the same lively package…it's a bright song for darker times."
Goodbye Road was written and recorded in the wake of an emotionally-charged year that included the racial assaults in Charlottesville, the heartbreaking attack upon an audience of music fans at the Route 91 Harvest Festival in Las Vegas, and the loss of rock & roll icon Tom Petty. Rooted in a mix of acoustic guitars, classic songwriting, upright pianos, ringing reverb, and stacked harmonies, Goodbye Road is an album about endings and new beginnings.
The Goodbye Road Tour brings to life the EP's messages of hope and resilience in the face of adversity and loss. All three artists have built their careers on the road, where their best qualities shine the brightest: Drew Holcomb & The Neighbors' timeless storytelling through song, Penny & Sparrow's rich, immersive harmonies, and JOHNNYSWIM's rousing Americana and electrifying chemistry. Through a very limited run of dates, fans will delight in a musical journey mapped through each act's artistic lens, creating a rare experience they're sure to hold onto for years to come.
Goodbye Road is due out on May 4th, and The Goodbye Road tour kicks off this June. For the most up to date information or to buy music or tickets please visit www.goodbyeroad.com.
About Drew Holcomb & the Neighbors: Drew Holcomb & the Neighbors turned a new corner with 2017's Souvenir, a highly collaborative album that debuted #1 on iTunes and Amazon and garnered acclaim from Rolling Stone, CMT, Entertainment Weekly and more. A road warrior for more than a decade, Holcomb has spent adulthood traveling from place to place with a catalog of vibrant, honest songs that explore the full range of American roots music. Holcomb & crew have appeared at Bonnaroo, Outsidelands, Stagecoach and more, while sharing stages with legendary artists including Willie Nelson, John Hiatt, Ryan Adams, and The Avett Brothers. An Emmy Award-winner, Holcomb has also appeared on Jimmy Kimmel Live! and had his music synced in over 75 of TV's most watched shows. Among Holcomb's ambitious projects are his Moon River Music Festival, an annual event benefitting local and national non-profits and Magnolia Records, a monthly vinyl subscription service, both curated meticulously by Holcomb himself.
About JOHNNYSWIM: Abner Ramirez and Amanda Sudano Ramirez make up JOHNNYSWIM. The pair met in Nashville in 2005, instituting a songwriting partnership not long afterward. They clicked together musically and personally, beginning a romantic relationship along with their creative connection. The couple married in 2009 and relocated to Los Angeles. In addition to their latest critically acclaimed album Georgica Pond (Oct 2016), JOHNNYSWIM released their debut full-length Diamonds in 2014 as well as three EPs, a Christmas EP and a live album. They've performed on various television shows including VH1's "You Oughta Know Concert," "The Tonight Show starring Jay Leno," "Late Show with David Letterman," "The Late Late Show with Craig Ferguson," "Today Show," "Live with Kelly & Michael," and provided the theme song on HGTV's "Fixer Upper." The duo has also toured extensively including major U.S. festival appearances.
About Penny & Sparrow: Indie folk singer/songwriter duo Penny & Sparrow formed in 2011 while members Andy Baxter and Kyle Jahnke were living as roommates at the University of Texas in Austin. The two friends began writing and singing together, creating simple acoustic arrangements and recording on a laptop. Their first effort, a three-song EP called Creature, introduced the warm, sincere balladry that would become their calling card. They released their breakthrough album Let A Lover Drown You in 2015 and their latest release, Wendigo, came out in September 2017. Over their career, they've earned fans at NPR, Rolling Stone and Noisey among others.