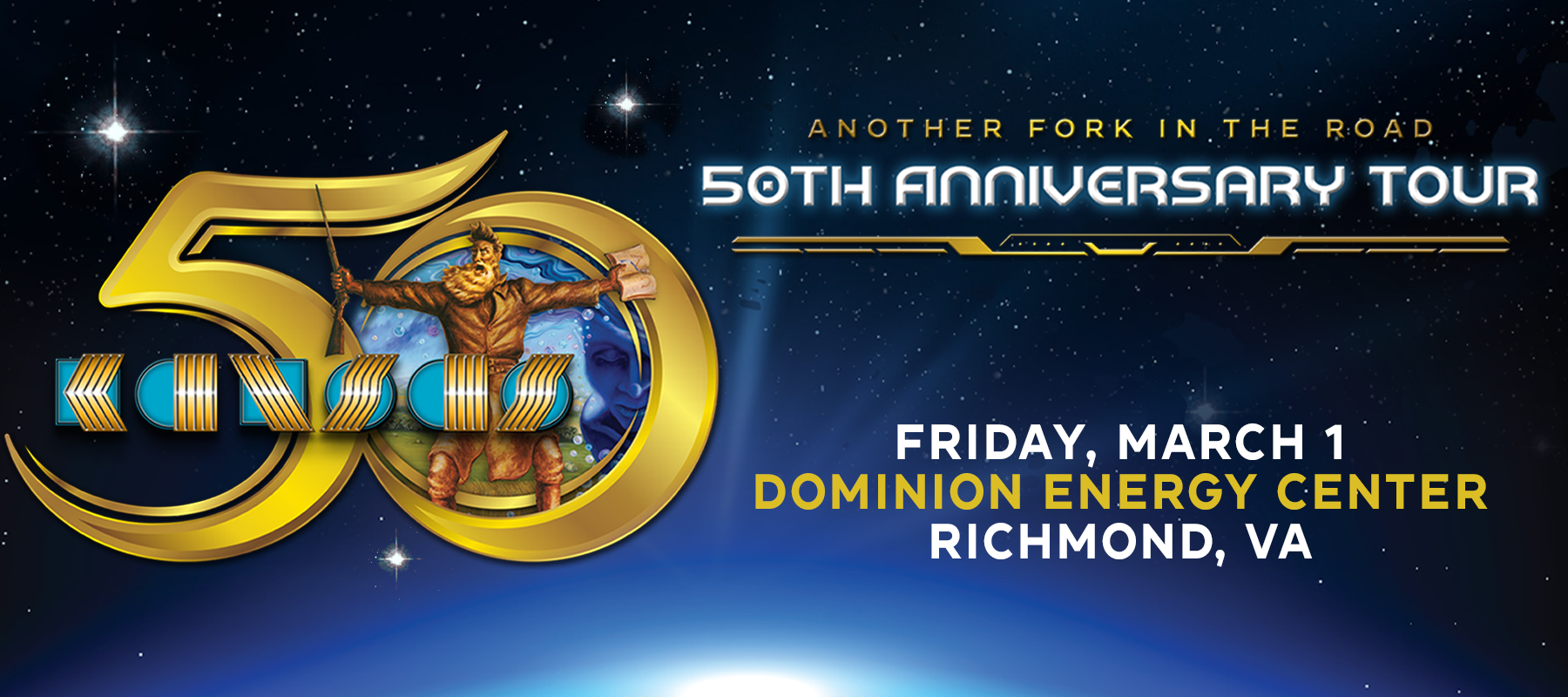 ROCK BAND KANSAS EXTENDS THEIR 50th ANNIVERSARY TOUR – ANOTHER FORK IN THE ROAD TO RICHMOND
Sep

12

, 2023
20 DATES ADDED TO EXTEND CURRENT TOUR THROUGH MAY 2024
FOR IMMEDIATE RELEASE
ROCK BAND KANSAS EXTENDS THEIR 50th ANNIVERSARY TOUR – ANOTHER FORK IN THE ROAD TO RICHMOND
20 DATES ADDED TO EXTEND CURRENT TOUR THROUGH MAY 2024
TICKETS ON SALE FRIDAY, SEPTEMBER 15, AT 10AM LOCAL
(SEPTEMBER 12, 2023 - RICHMOND, VA) As a result of brisk ticket sales and numerous sellouts, America's preeminent progressive rock band KANSAS is extending their 50th Anniversary Tour, coming to Dominion Energy Center on March 1, 2024. The "Another Fork in The Road" Tour celebrates 50 years of the band's illustrious music history with concerts featuring two full hours of memorable hits, fan favorites and deep cuts rarely performed live. The tour has been hallmarked by energetic and spellbinding performances at some of the foremost theaters and performing arts centers across the United States and into Canada.
Tickets go on sale to the general public Friday, September 15, at 10:00AM. KANSAS Fan Club, American Express Card Holders, and other presales begin today, September 12, at 11AM Local Venue Time. Tickets can be purchased at dominionenergycenter.com.
"The way audiences have received the 50th Anniversary Tour has been spectacular," offers KANSAS drummer and original member Phil Ehart. "It only made sense to extend the tour into 2024. We look forward to being able for fans in more locations to see the tour – and for people who loved it the first time to see it again!" Ehart adds, "Heck, the first 50 dates didn't even include the state of Kansas. You know we must perform there!"
In a recent tribute to the band's five decades of success, Billboard Magazine describes the basis for their longstanding appeal: "Blending blues-based hard rock and intricate progressive constructions, KANSAS staked out its own musical territory, at once original and accessible." Billboard.com - KANSAS Hits 50
"Our entire career has been a winding journey," comments KANSAS guitarist and original member Richard Williams. "Whether it's been the 'original' lineup signing with Don Kirshner, years on the bus, touring with Queen, and finally worldwide success peaking with Leftoverture & Point of Know Return." Williams goes on to remember, "That was followed by various lineup changes, the valleys of the 90's and 'dinosaur bands' losing steam, to our most recent 'rebirth' and success of our latest new music over the last eight years." He concludes, "There have been several forks in the road of that journey. This 50th Anniversary Tour and release represent that journey and the forks along that road."
To further celebrate the band's 50th Anniversary, InsideOutMusic has released Another Fork in the Road – 50 Years of KANSAS. The 3-CD career-spanning collection features carefully selected tracks from across KANSAS's sizable discography. It also includes a new version of the song 'Can I Tell You.' Originally released on their 1974 debut album, the song is updated by the current lineup. Another Fork in the Road – 50 Years of KANSAS is available now. Fans can order it here - https://kansas.lnk.to/AnotherForkInTheRoad-50YearsOfKansas
KANSAS boasts a current lineup including original drummer Phil Ehart, bassist & vocalist Billy Greer, lead vocalist & keyboardist Ronnie Platt, keyboardist & vocalist Tom Brislin, violinist & guitarist Joe Deninzon, and original guitarist Richard Williams. Additionally, Eric Holmquist fills in on drums for the first part of each concert while Phil Ehart continues to recover from an arm injury. With no signs of slowing down, KANSAS continues to perform in front of large and enthusiastic audiences.
For more information on KANSAS and the Another Fork in the Road – 50th Anniversary Tour please visit:
www.threads.net/kansasband
www.youtube.com/kansas
Tickets go on sale to the general public Friday, September 15, at 10:00AM. Tickets will be available online at dominionenergycenter.com, by phone at (800) 514-3849 via Etix, or in-person at the Altria Theater Box Office, located at 6 N. Laurel Street, open Monday-Friday, 10AM-2PM local.
As a courtesy reminder, Dominion Energy Center urges ticket buyers to buy direct from the Dominion Energy Center website or from the sources listed above. All other ticketing sources are through unauthorized sellers. More information on buying direct can be found at dominionenergycenter.com/tickets-events/etix.
For more information, visit dominionenergycenter.com.

###
About ASM Richmond
ASM Richmond is the Richmond, Virginia division of ASM Global, the world's leading provider of innovative venue services and live experiences. The company manages three local venues including, Altria Theater and Dominion Energy Center on behalf of the Richmond Performing Arts Commission (RPAC), and Bon Secours Training Center on behalf of the Richmond Economic Development Authority. Previously known as SMG Richmond, the company became ASM Richmond in 2019 as a result of the merger between its parent company, SMG Worldwide, and AEG Facilities. ASM Richmond oversees all facets of venue management including, administration and finance, sales and marketing, event production and promotion, and facilities maintenance.
About ASM Global
ASM Global is the world's leading producer of entertainment experiences. It is the global leader in venue and event strategy and management—delivering locally tailored solutions and cutting-edge technologies to achieve maximum results for venue owners. The company's elite venue network spans five continents, with a portfolio of more than 325 of the world's most prestigious arenas, stadiums, convention, and exhibition centers, and performing arts venues Follow us on Facebook, Instagram, LinkedIn and Twitter. asmglobal.com