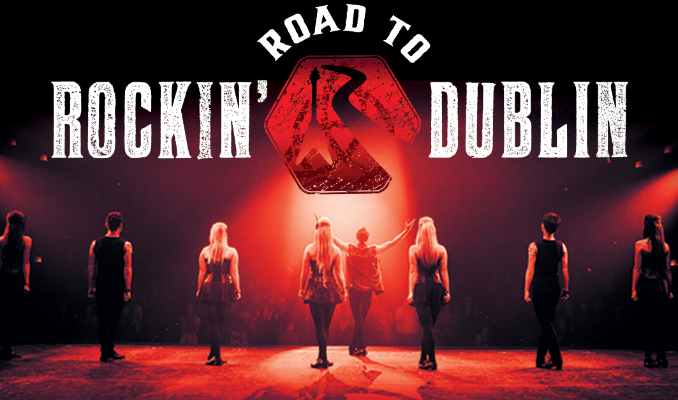 Acclaimed Irish Dance/Rock Concert Rockin' Road to Dublin Comes to Richmond March 16
Oct

31

, 2016
The new generation of Irish rock and dance began on Sept. 22 when ROCKIN' ROAD TO DUBLIN inaugurated its 60-city tour at the McGregor Hall Performing Arts Center in Henderson, NC.
On MARCH 16, 2017, the show will be performed at THE CARPENTER THEATRE AT DOMINION ARTS CENTER in RICHMOND, VA, announce ROCKIN' ROAD TO DUBLIN creators and executive producers, Celtic rocker / lead drummer / Richmond native Chris Smith and Irish Dance World Champion Scott Doherty. Tickets go on sale at 10 a.m. Friday, Nov. 4 and will be available at the Dominion Arts Center and Altria Theater box offices, by phone at (800) 514-3849 and online at DominionArtsCenter.com and etix.com.
"We bring a wee bit of Dublin with a rockin' edge to the stage," explains Smith (The American Rogues), who has gathered an elite class of musicians to perform in the ROCKIN' ROAD TO DUBLIN band: John Baldwin (bass player, The American Rogues), Keven Eknes (an award-winning guitarist from Norway), Marita May (classically trained on violin since age 5; Celtic Fyre), Kelly Mills (five-time winner of the Drum Corps and Percussion World Championships), Mike Moore (Busch Gardens and Kings Dominion), Joe Schermann (Guys and Dolls, White Christmas, Grease, Smokey Joe's Café, and Shout), and Corey Walden (The American Rogues, and founder of The Suzuki School of Milford).
"It's truly the music that gets the audience on their feet," insists Doherty (Riverdance and Lord of the Dance), who has worked his own magic choreographing the critically acclaimed show. The 2009 Men's World Champion of Irish Dance, Scott made his professional debut in 2005 with the North American tour of Riverdance, and since has toured the world with that show, as well as Michael Flatley's Lord of the Dance.
For ROCKIN' ROAD TO DUBLIN, Doherty chose three-time international Irish dance champion Ashley Smith to be his lead female dancer. On stage since the age of 3, at 16, Ashley was crowned the World Irish Step Dancing Champion in Belfast in 2004 — making her the youngest American female ever to win the world title at that time. A top-30 female finalist on the hit TV show "So You Think You Can Dance," Ashley was also a featured dancer on the Oscar-nominated film Silver Linings Playbook.
Rounding out the cast are other well-known Irish dancers, including Colin Barkell (Celtic Fyre), Mark Chichester (Lord of the Dance), Declan Crowley (West Side Story: Mashup), Bernadette Devereaux (Lord of the Dance), Megan Kirk Drake (Rhythm of the Dance), Patrick Holland (Cherish the Ladies), Billy Kanaly (Riverdance), Emily MacConnell (Rockin' Road to Dublin), Erika Nielsen (Lord of the Dance: Dangerous Games), world champion Tyler Schwartz (Celtic Fyre), Ciara Stillson (Celtic Fyre), and Mairéad Stillson (Lord of the Dance: Dangerous Games).
The show's star power continues with ROCKIN' ROAD TO DUBLIN's two lead vocalists — Richmond's own Megan Browning (Harley Boone) and Brett Benowitz (Born Blue). "The lyrics of the songs tell a love story that weaves together the music and dance," explains the show's director, Broadway choreographer Jeff Whiting (The Producers—tour; Bullets Over Broadway—tour). "Our goal is to have the audience walk away having had an experience that is entertaining, uplifting, and inspirational."
Music supervision, arrangements, and orchestrations are by Brent Frederick; original costume design is by Sarah Coffey and Ashley Wilson; lighting is by Carolyn Wong; scenic designs is by Brian Barker; and sound consultation is by Trey Smith.